Fossil fuel and tobacco industries: Make them accountable and pay for damage
Various studies and reports suggest that fossil fuel companies are not unaware of climate change and what's going on our planet. But, they are intentionally spreading climate misinformation for decades. 
Even after scientists first concluded that smoking causes cancer, the tobacco companies continued to win court cases by arguing that no specific cancer deaths could be attributed to smoking. At some point, through the evolution of time, the tobacco companies began to lose legal cases against them even though the science had not substantively changed. Juries began to find the industry liable because tobacco companies had known their products were harmful while they publicly denied the evidence, targeted youth, and manipulated nicotine levels.

Pretty similar thing is happening with the fossil fuels companies. Various studies and reports suggest that fossil fuel companies are not unaware of climate change and what's going on our planet. But, they are intentionally spreading climate misinformation for decades. A very live example could be taken of Exxon Mobil Corporation, an American multinational oil and gas corporation headquartered in Irving, Texas. It knew about the threat of a planet warmed by burning fossil fuels as far back as the 70's, and while publicly denying these risks, built them into its business plans.
A report shared by ZME science revealed that 9 out of 10 climate change denial papers were funded one way or the other by Exxon. According to Greenpeace, over the years, Exxon spent more than $30m on think tanks and researchers that promoted climate denial. With respect to tobacco companies denying the nexus between smoking and lung cancer, current denying of fossil fuel companies about climate change could be considered as a magnified form of denial where the concern is not only about individual but the many lungs living the planet. They are pushing whole the humanity, living creatures and our planet into an extinction where we have no way back.
Although, these companies have set their political and corporate network very strong and wide, recent campaigns and activism has come up with the hope. Environmental advocates delivered a petition with more than 350,000 signatures to U.S. Attorney General Loretta Lynch in November, seeking a federal probe of Exxon. Furthermore, Activist Bill McKibben, put on a "Mock trial" of Exxon for alleged "climate crimes" during the Paris climate talks in December. As stated in insideClimate news, A four-year, coordinated strategy by environmental organizations to hold ExxonMobil and other fossil fuel corporations legally accountable for climate change denial has come to execution, as state attorneys general have teamed up to launch investigations into possible climate fraud. In 2006, the US court found the tobacco industry guilty for spreading misleading information about smoking and public health. They were ordered to buy newspaper ads detailing smoking's health effects and to stop using such descriptions as "low tar," "light," ultra-light," "mild" or "natural" that might imply that they are less dangerous than other cigarettes. They were also made to pay $10 billion as fines.
Speaking for ThinkProgress, Sharon Y. Eubanks – the leader of the Justice Department team that prosecuted the landmark lawsuit against big tobacco said "the Department of Justice should investigate Exxon and possibly other fossil fuel industry players for a similar claim". The conspiracy isn't only against smoker's health, it's against all life on Earth.
Appreciating the action over tobacco industries, it is now time to make fossil fuel companies to pay for what they have damaged. It's time to stop them from disseminating misleading information about climate change. It is time for them to make responsible to identify and publicly support policies that will lead to the reduction of emissions at a scale needed to reduce the worst effects of global warming. It's time to make them pay for their share of the costs of climate damages and costs of health of our planet. We need to make them liable to fully disclose the financial and physical risks of climate change to their business operations. If we could apply these conditions, it would answer the many burning questions in climate negotiations.
Author:
Binod Prasad Parajuli
HI-AWARE, Msc Candidate
Central Department of Environment Science( CDES), Tribhuvan University,
Kirtipur,Nepal
E-mail : binodpparajuli@gmail.com
Mobile : 9779849476569
Web : www.binodparajuli.com.np
What's Special Today: November 10
Chhath:
Historically native to the Indian states of Bihar, eastern Uttar Pradesh and Jharkhand and the southern part of Nepal, Chhath is one of those festivals that transcends the caste system that exists in the society. According to the Hindu calendar, it is celebrated on the sixth day of the lunar month of Kartik. The Chhath Puja is a 4-day long ritual specially offered to the solar deity, Surya, to show thankfulness for good health, good life and to request the granting of some certain wishes.
Day 1: On the first day, the devotees after bathing clean their house and eat the food that is offered to the god to protect the mind from the vengeful tendency.
Day 2: On the second day, the devotees are not allowed to drink even a single drop of water but, in the evening, they eat kheer made up of jaggery, fruits.
Day 3: The evening of the third day which is also known as sandhya 'arghya' day where a bamboo basket is decorated with various puja materials, fruits, thekuwa, and laddus which are offered as an 'argya' to the Sun. Also, the Chhathi Maiya is worshipped.
Day 4: On the last day of Chhath puja again an arghya is offered to the Sun God but this time in the morning. The devotees go to the riverbank to offer arghya to the rising sun and break their fast and conclude their four-day long worship.
Happy Chhath to everyone! Don't forget to enjoy some thekuwas!!
World Keratoconus Day:
Every year on November 10, World Keratoconus Day is celebrated to focus global attention on keratoconus and ectatic corneal disorders. The day was first celebrated by National Keratoconus Foundation.
Keratoconus is a disease that causes the cornea to become weak, leading to the thinning and stretching of the cornea, which may result in the loss of vision. Keratoconus is degeneration of the structure of the cornea. The shape of the cornea slowly changes from the normal round shape to a cone shape which affects the vision. The keratoconus mainly develops in teenagers and young adults and the disease keeps on growing, if not diagnosed in time.
The disease has no prevention and no treatment. With early diagnosis, the disease can be managed and further damage can be protected. In Nepal, the prevalence of Keratoconus is 1 in 2000 according to the recent journal. So, this world keratoconus day, make a commitment to visit an eye doctor once a year for the early diagnosis of keratoconus as well as other eye diseases.
Best and Worst Bank in Nepal as per our survey
We had conducted an online survey to find out how banking services in Nepal are being used and perceived by their users. This article is entirely based on those responses. Thank you Muktinath Bikash Bank for supporting us in conducting this survey.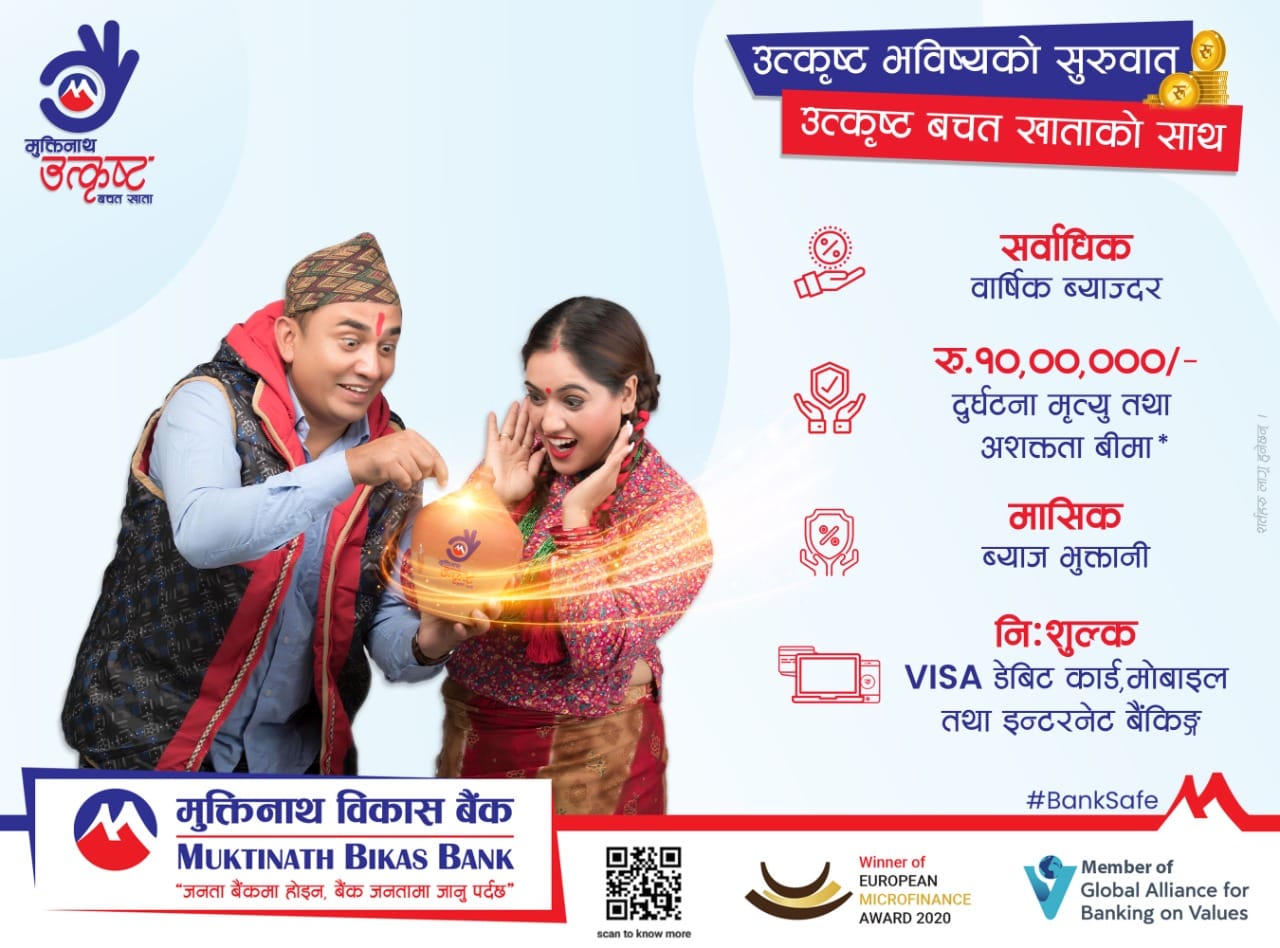 Over the years, Banks have become an integral part of our daily life and economy. With the shift to digitalization and modernization of the economy, banks have definitely made life easier for people to manage their cash and transactions. With these shifts and increasing dependency on banks more than ever, the use of banking services and users' banking experience is one of the topics with the minimal amount of research done. Out of curiosity, we conducted an online survey to find out how people have been feeling about the banking services provided by the respective banks.
About Respondents
Respondents were mostly urban educated youth with access to the internet, in the age bracket of 18-40, mostly being from 22-26 age group. The data was collected through social media users, primarily from page followers of KMAG. In total, we got 219 responses out of which 160 were males and 59 were females.
In the list of questionnaires, one of the questions was "which is your favorite bank from Nepal as per your own experience," and another being "which bank do you think is the worst." Among 219, 27 respondents were undecided and 192 casted their votes for "best" and the "worst." To build the conclusion on more strong foundation, we wanted to make sure respondents voice their opinion per their experience for which we had also asked them to reveal their primary bank.
Out of the total participants, a majority of 89.6% have multiple bank accounts though 19.5% of them just use one of those accounts. The remaining 10.4% claimed to have an only bank account. Out of all those banks, Nabil Bank is the primary bank for 36 participants (which was the highest no. of primary account holders in a particular bank). After Nabil, most of them were primary users of NIC Asia, Global IME, and Siddhartha Bank.
Nabil is voted as "Favorite Bank"
Nabil Bank seems to be the most favorite and popular among the respondents. With a total of 45 votes, it was voted the "most liked" bank. Among them, 29 were the primary account holders of the bank. Under "least liked," it only got 4 votes.
To briefly talk about Nabil Bank, Nabil Bank is an 'A' class commercial bank which was founded in 1984 A.D. (2041 B.S.). It was established as Nepal's first private sector bank incepted by multinational investors with the objective of providing modern, international-standard financial services. It was first established as Nepal Arab Bank Limited. In 1995, Dubai-government owned the majority of shares was bought by Binod Chaudhary.
NIC Asia is "least favourite"
With 76 votes for "worst bank," NIC Asia seems like the "least liked" bank from Nepal as per the responses. Interestingly though, it has also been voted as "favorite bank" by 17 respondents.
After NIC Asia, Nepal Investment Bank seems like the second "least favorite" bank from Nepal with 23 votes against the bank.
On being asked the reason for disliking the bank, most of the participants seem to agree on the same point and that is "terrible" customer service of the bank. Similarly, other reasons were bad internet/mobile banking facilities, fraud-like business practices, and lack of important banking services/products being provided by the. Not to forget few were unhappy about the lack of branch/ATM services.
The detailed data are presented in the table below:
| | | | |
| --- | --- | --- | --- |
| Banks | Primary Account | Liked | Disliked |
| Nabil Bank | 36 | 45 | 4 |
| Global IME Bank | 25 | 17 | 10 |
| NIC Asia Bank | 29 | 17 | 76 |
| Siddhartha Bank | 16 | 14 | 7 |
| Sanima Bank | 13 | 11 | 2 |
| Laxmi Bank | 12 | 10 | 1 |
| Mega Bank | 10 | 10 | 2 |
| Standard Chartered Bank | 9 | 8 | 2 |
| NMB Bank | 6 | 7 | 7 |
| Bank of Kathmandu | 5 | 6 | 1 |
| Machhapuchchhre Bank | 7 | 6 | 5 |
| Himalayan Bank | 7 | 5 | 9 |
| Sunrise Bank | 7 | 5 | 2 |
| Muktinath Bikash Bank | 4 | 4 | 2 |
| Century Commercial Bank | 3 | 3 | 0 |
| Civil Bank | 4 | 3 | 3 |
| Everest bank | 2 | 3 | 10 |
| Kamana Sewa Bikas Bank | 1 | 3 | 1 |
| Prabhu Bank Limited | 8 | 3 | 8 |
| Rastriya Banijya Bank | 3 | 3 | 9 |
| Agriculture Development Bank | 2 | 2 | 2 |
| Citizens Bank | 5 | 2 | 1 |
| Kumari Bank | 3 | 2 | 1 |
| Nepal Bangladesh Bank | 2 | 2 | 2 |
| Nepal Bank | 3 | 2 | 5 |
| Nepal Investment Bank | 15 | 2 | 23 |
| Garima Bikash Bank | 2 | 1 | 0 |
| Nepal SBI Bank | 2 | 1 | 11 |
| NCC Bank | 1 | 1 | 2 |
| Prime Commercial Bank | 7 | 1 | 2 |
| Manakamana Development Bank | 0 | 0 | 1 |
| Shangri-la Development Bank | 1 | 0 | 0 |
How to design a survey questionnaire
This article was originally designed for KMAG Online Writing Workshop and made available to public for knowledge-sharing purpose.
A survey is a list of questions aimed at extracting specific data from a particular group of people so that the surveyor can gain knowledge and insights into various topics of interest and then mostly generalize the result. How to design a survey questionnaire completely depends upon the purpose behind the survey. Depending on the purpose, questions are framed.
Let's understand this way, surveyor seeks to know anything based on either of the following grounds:
They don't know anything, they are curious to find out, and they seek for answers. Example: I don't know many people smoke and I want to find out by asking everyone out there.
They think they know but they are not sure and they want to find out if what they think they know is actually true or false. Example: I think 50% of Nepalese do smoke but I am not sure yet and I want to validate my assumption by surveying.
They strongly believe that what they know is the facts and now they want to interpret the world based on the "facts" they live by. Example: I strongly believe that smoking is bad and raising tax and making it expensive is the way to discourage people to smoke. I want to survey to find out how many Nepalese believe the same and agree with raising taxes and making it expensive would discouarge people to smoke.
Whatever grounds you are holding, you must frame your questionnaire according to that. So before working on the questionnaire ask yourself if you are trying to know the unknown or are you trying to validate or crosscheck what you think you know or you are trying to pass judgment or views based on your preset theory/hypothesis that your understanding is based upon.
This is how it goes:
You already have a theory and you want to analyze people based on the theory.
Let's take for example "Job satisfaction Survey." In this case, as per your theory/hypothesis, to be called "satisfied" one must be displaying so and so traits and views; if not, the person is not satisfied in his/her job. Based on that, you will be designing a questionnaire and see how many people meet the criteria to pass your judgment. If your theory says, highly satisfied people have flexible working hours, one of your questions will be something like "Can you come to your office at whatever time you want and can leave per your own wish as long as you are doing what you are paid for? Yes/No/Depends." Likewise, there will be other questions set in a fashion to funnel your judgment regarding what percentage of people are satisfied with their job and work.
You have a theory or hypothesis that you want to validate or crosscheck
In this case, you have an assumption but you are not sure of and you want to crosscheck or validate by testing it on people. For example let's say you think "Most arranged marriage people are unhappy," and you want to validate your claim or crosscheck the truth in it by surveying among arranged marriage couples. Your questions will be something like "If you have to rate your marriage in terms of joy and happiness in it, how much will you rate on a 1 to 10 scale?" followed by questions like "if you have a time machine, would you go back right before the marriage and take your time to find out someone to have a love marriage? Yes/No/Maybe"
You don't have any theory or hypothesis and you are only to find out unseen/unknown reality
In this case, you don't have any preconceived thoughts or assumptions and you are plainly trying to learn or find out in an open-minded fashion.  Like for example, You don't know how many educated youth from Nepal actually do smoke, nor you know why they smoke despite its negative effect and you are set out to find out the answer by surveying. In such surveys, your questions will be like "do you smoke? Yes/No. "If you smoke, how many cigarettes do you smoke per day?" "despite its negative effect, why do you still smoke?"etc.
Sometimes, you can have a mixed approach, wherein the topic of your interest that you are surveying on, part of it is something you strongly believe being fact, part of it is something you are unsure about, and part of it is something you don't know a thing about and you are willing to learn.  Like for example, you strongly believe happy couples display so and so traits, and you think couples from love marriages are happier but you are not sure of, and you don't know at all if personal happiness is valued more in marriage or responsibilities and social factors in the context of Nepal. So part of your questionnaires will be driven by your theory that you consider as being fact, part of it will be intended to cross-verify your assumption, and part of it will be purely seeking truth as it is without any deliberate attempt to frame your assumption.
Bottom line, you should know your ground, the purpose of surveying, what you intend to do afterward, based on which you should be working on your questionnaires.  Your questionnaires will be designed according to your intention, so there is no hard and fast rule but make sure, in the end, you gather all the relevant information so put together to build a conclusion and for that, you need to think about what all needs to be asked to fill up the blocks and connect the dots.