MCC: A Simple guide to confused ones
Everything that I have understood about MCC and issues related to it.
I have never seen Nepalese people being this divided on MCC Nepal Compact. All thanks to misinformation, prejudice, paranoia, and lack of effective communication from the team. I have earlier published an article "5 Types of people who are against MCC," based on my analysis and observation. This article is not written for those types. This article is written for those who are willing to learn about MCC, as it is. In this article, I am taking you to step by step introducing everything to understand things as it is, to help you build an informed opinion on the matter.
What is MCC
Let's start from the official definition. "The Millennium Challenge Corporation (MCC) is an innovative and independent U.S. foreign assistance agency that is helping lead the fight against global poverty."
Let's break down the keywords, "innovative," "independent," "U.S. foreign assistance agency," "helping lead the fight against global poverty."
With that definition, what we can understand is MCC is an "independent" agency, separate from the State Department and USAID, which is formed to "help countries" to overcome poverty. It provides grants to countries that have been determined to have good economic policies and potential for economic growth.
Think this way: There is a start-up company that has a plan to upscale their business idea, and there is XYZ organization that provides funds to the deserving start-up to pursue their business goal. If Nepal is that start-up company, MCC is the funding agency.
History of MCC
At the Inter-American Development Bank meeting on March 14, 2002, President George W. Bush called for a new compact for development with accountability for both rich and poor countries, since other development programs like USAID have been thought to suffer from many different and sometimes conflicting goals, which often are a result of political pressures, and for not delivering long-term economic improvements. In other words, since there were certain limitations and challenges to help poor countries to fight against poverty through programs like USAID, George W. Bush proposed a new compact with distinct characteristics. Unlike USAID programs, any country wanting to get the fund must come through competitive selection. In other words, you don't just get the fund like in USAID. Before a country can become eligible to receive assistance, MCC's Board examines its performance on 17 independent and transparent policy indicators and selects compact-eligible countries based on policy performance.
Other criteria to be eligible for the fund, the applying country must identify their priorities for achieving sustainable economic growth and poverty reduction. Countries develop their MCC proposals in broad consultation within their society. MCC teams then work in close partnership to help countries refine a program.
When a country is awarded a compact, it sets up its own local MCA accountable entity to manage and oversee all aspects of implementation. Monitoring of funds is rigorous and transparent, often through independent fiscal agents.
This is actually a common practice in the business investment scene that any entrepreneur can relate to.
Thus, established by the U.S. Congress in 2004,
MCC has invested more than $13 billion in compact and threshold programs worldwide that support country-led projects in areas like:
Agriculture and irrigation
Anti-corruption
Education
Energy and power (generation, distribution, and transmission
Finance and enterprise development
Health
Land rights and access to land
Transportation infrastructure (roads, bridges, ports)
water supply and sanitation
MCC has three types of grants: Compact | Threshold Program | Concurrent Compacts for Regional Investments.
Nepal applied for Compact grants and was selected, that's why it is called Nepal Compact.
What Is MCC Nepal
Just like every entrepreneur, one of the key activities of government is to find an agency or organization that funds or supports his vision or in tackling problems. Since there was a funding agency (MCC) that would provide a fund to the deserving countries in a mission to fight against poverty through the sustainable country-led project, Nepal in 2011 begun identifying priority areas to apply for the fund, and finally in 2015, they decided the key area. In September 2017, the U.S. Government's Millennium Challenge Corporation (MCC) signed a $500 million compact with the Government of Nepal. The compact aims to maintain road quality, increase the availability and reliability of electricity, and facilitate cross-border electricity trade between Nepal and India—helping to spur investments, accelerate economic growth, and reduce poverty.
NOTE: the US didn't just give the fund to Nepal. Nepal asked for it. It proved itself the deserving one for the project. Got reviewed by the MCC board and got selected.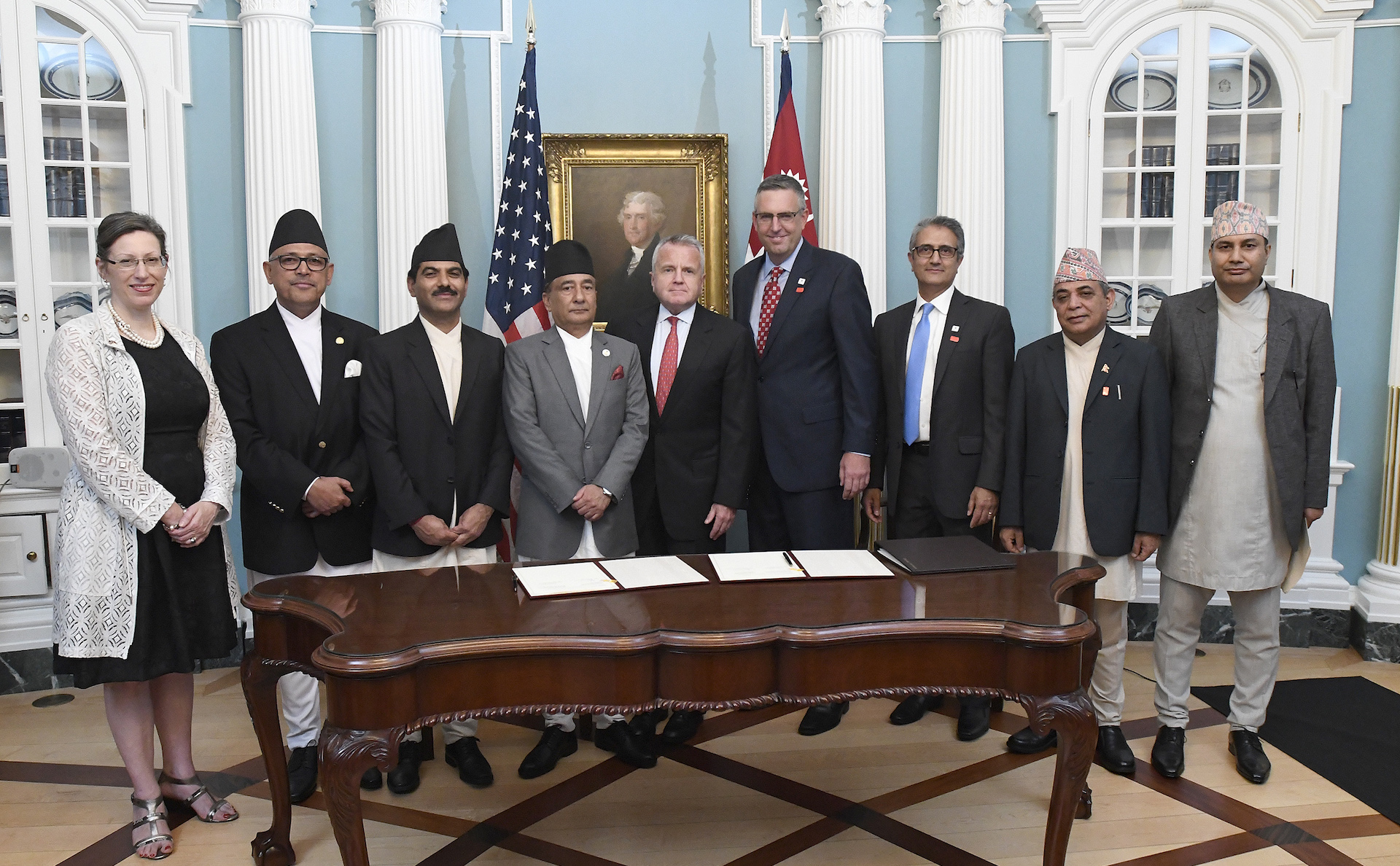 In short, Nepal got the money through competitive selection, after following the due procedure set by MCC. This Nepal Chapter is called Nepal Compact.
This is how the project is budgeted.
Electricity Transmission Project: $398,200,000
Program Administration:
$40,000,000
Road Maintenance Project:
$52,300,000
Monitoring & Evaluation:
$9,500,000


Is Nepal the only country which has got that huge amount?
NO. Many countries have received grants from MCC. As said earlier, MCC provides grants of three types: Compact, Threshold, and Concurrent.
List of the countries that have received the grants for Compact:
Benin (twice): 2006 and 2015 – $307,298,040 and $375,000,000
Burkina Faso (twice): 2008 and 2020 – $480,943,569 and $450,000,000
Cabo Verde (twice): 2005 and 2012 – $110,078,488 & $66,230,000
Côte d'Ivoire: 2017 – $524,740,000
El Salvador: 2006 – $460,940,000
Georgia (twice): 2005 and 2013 – $395,300,000 & $140,000,000
Ghana (twice): 2006 and 2014 – $547,009,000 & $308,200,000
Honduras: 2005 – $205,000,000
Indonesia: 2011 – $600,000,000
Jordan: 2010 – $275,100,000
Lesotho: 2007 – $362,551,000
Liberia: 2015 – $256,726,000
Madagascar: 2005 – $109,773,000
Malawi: 2011 – $350,700,000
Mali: 2006 – $460,811,164
Moldova: 2010 – $262,000,000
Mongolia: 2007 – $284,911,363
Morocco: 2007 – $697,500,000
Mozambique: 2007 – $506,924,053
Namibia: 2008 – $304,477,816
Nepal: 2017 – $500,000,000
Nicaragua: 2005 – $113,500,000
Niger: 2016 – $437,024,000
Philippines: 2010 – $433,910,000
Senegal (twice): 2009 and 2018 – $540,000,000 & $550,000,000
Tanzania: 2008 – $698,136,000
Vanuatu: 2006 – $65,690,000
Zambia: 2012 – $354,757,640
As you can see, other than Nepal, 27 other countries have received the Compact grant, some of them even have received it twice. Also, some of the countries have received more than what Nepal bagged and it all depended on the project size.
In other words, MCC has been funding different government-led projects in different developing countries as part of its mission to help countries fight against poverty, and Nepal reached out to MCC to get the help, and after proving itself the deserving one with the viable proposal, they decided to fund Nepal.
Why is US distributing billions of money?
The simple answer is because they can. For the complicated answers, we need to first understand the US as a country. The US likes to call itself the leader and advocate of liberal democracy, freedom, a free-market economy, and many other modern values. It likes to spread its values across the globe. It likes to work closely with countries that want to implement those values sociopolitically. Since the country itself is founded on the ideas and philosophies of the Age of Enlightenment, adding to Christian values of giving back to society, they like to fund and help any country that follows (or wants to follow) their values and political and economical philosophies. US policymakers see foreign aid as a way to promote global economic development, and global economic development promotes U.S. national security, as countries and people receiving foreign aid will tend to be more loyal to the country and its values. Same with many other developed western countries.
Over time, however, developed countries have realized that instead of giving a man a fish, teaching him how to fish works better for both sides. So from donation-for-cause, donor agencies are exploring sustainable approaches. "Sustainable growth" thus has been the core idea behind any assistance and funding. A project like MCC is one of the kinds where developing countries are provided donations for its sustainable and viable self-sustaining project. Like for example, Nepal taking MCC grants to develop and execute transmission lines so that Nepal can sell electricity to neighboring countries and to its own people and sustain.
Why is Nepal getting $500,000,000 from US (MCC)?
As you now know, US foreign aid recipients include developing countries, countries of strategic importance to the United States, and countries recovering from war. MCC basically looks after developing countries with a self-sustaining development project.
The compact aims to maintain road quality, increase the availability and reliability of electricity, and facilitate cross-border electricity trade between Nepal and India—helping to spur investments, accelerate economic growth, and reduce poverty. Nepal faces extensive economic development challenges caused by an inadequate supply of electricity and high transportation costs to move both goods and people. The MCC Nepal Compact marks a new chapter in the U.S.-Nepal Partnership and is designed to increase the availability of electricity and lower the cost of transportation in Nepal. It will help support the Government of Nepal to better deliver critical services to its people, ease the movement of goods around the country, and open new opportunities for private investment—all to create sustainable development for the people of Nepal. Strengthening the reliability of key infrastructure will put the country's economy on a firmer growth trajectory, advance stability, support regional security, and reduce poverty.
For which, $500,000,000 is designed to spend over two key areas:
Electricity transmission project:
Nepal while producing electricity lacks a robust transmission line, "electricity highway," to distribute and export surplus electricity to India and other neighboring countries. MCC grants are to help Nepal in building the transmission line. For this, $398,200,000 has been allocated.
"The objective of the Electricity Transmission Project is to increase domestic electricity consumption by improving the availability and reliability of electricity in Nepal's electricity grid. Specifically, the project will expand and strengthen the high voltage electricity transmission network to support new investments in a generation that unlock Nepal's hydropower potential and facilitate increased power trade between India and Nepal. The project will do this through:
Construction of approximately 300 kilometers of high voltage power lines, equivalent to one-third the length of Nepal, including a link to the Indian border to facilitate electricity trade.
Construction of three substations to help transform power from one voltage level to another for further transmission or distribution to customers.
Technical assistance to strengthen the recently created Electricity Regulatory Commission in areas such as tariff setting, rule-making, dispute resolution, and economic and technical regulation to help bring transparency, efficiency, inclusive consultation and competition to the power sector. It will also help the Nepal Electricity Authority improve its transmission operations.
The project will also include a benefit sharing program to increase access, reliability, and productive use of electricity within project-affected municipalities.
Road maintenance project
While developing the transmission line, there is a need to maintain existing roads and in some cases build new roads, for which $52,300,000 is allocated.
Poor road maintenance in Nepal makes travel and transport of goods challenging and expensive. The high cost of transport has significant economic effects in a landlocked and mountainous nation that relies on cross-border trade. To address the high cost of transport, the Road Maintenance Project aims to maintain road quality across the strategic road network, preventing further deterioration of Nepal's road network. The project will do this through:
An incentive-matching fund to encourage the expansion of Nepal's road maintenance budget, in addition to the periodic maintenance of up to 305 kilometers of the country's strategic road network. This activity will also introduce new pavement recycling technology to Nepal through a small pilot to test and evaluate its potential for broader use.
Training and capacity strengthening for the Department of Roads and Roads Board Nepal to improve the administration of road maintenance.
As stated earlier, MCC has invested more than $13 billion in compact and threshold programs worldwide that support country-led projects and one of the common projects have been Energy and power (generation, distribution, and transmission). Just like Nepal, they have earlier funded Benin, Ghana, Tanzania, Senegal, and many other countries listed above under the "Energy and Power" segment.
What's the issue?
Now, this is the complicated part. In this section, I will be giving my opinion, that you may agree or disagree with but this is what I strongly feel.
By now, you have learned the following things:
Nepal won the grants by applying for and winning it through competitive selection process. US didn't come with "hey! take my money." To put it in a perspective, there is a funding agency and an entrepreneur with great business idea applied for the fund and won it. Or, a NGO with great plan applied for donation and got it from an INGO.
MCC only provides money for projects that they deem can help the country fighting against the poverty. In the case of Nepal, it was electricity trading.
Aid is fundamental political and cultural values of America and it has been doing so since the its birth, as US policymakers believe "aid will help America to win friends, allays, eventually benefiting US in terms of its own national security and economy….also can help US to expand its values and principles like Democracy, human rights, and many liberal ideas to the world."
Nepal is not the only country which is or has received MCC grants. There are over three dozens country who got the fund from MCC.
On the surface, the issue is about what's in MOU — The clauses and terms. Diving in, the issue is not with what's in the MOU but rather politics.
How many times have you hit "I agree" in software or while signing up for a website without reading them? Almost every time, why? Because we trust that whatever must be written there are not there to scam us and if there is anything wrong, we will know and fight anyway. Moreover, we believe that we are not the only one signing up, so others will also raise their voice if anything is fishy when the time comes. Until then, let me make use of the software or platform as it benefits me.
Many entrepreneurs or NGO/INGO workers can relate to this. They sign MOUs every now and then with different clients and parties and organizations. Most of the time, they don't dwell too much on words because they trust each other. They just sign after checking few important clauses. It often goes as one side preparing their draft and the other side preparing theirs, and then bring together and merge with mutually agreed-upon terms.
All the fuss regarding MCC is regarding clauses in MOU. I don't want to get there because they are all "bhanne kura." Deep down, all those fusses are coming either from the predisposition of mistrust, hate, prejudice towards the US or from nationalism rhetoric. And there are few groups who are there voicing against MCC because they are being puppets of unseen powers who don't want Nepal taking US aid through MCC. That's what I believe.
See, if you want to fuss, you can always find a reason to fuss over anything. You can pick a line from any MOU and make mountain out of a molehill. You can pick a clause in the software agreement and fuss over it. Because words can be interpreted in many ways. If we say, "to read an article on this website, you must fill up a form." You can either take it easy and understand the protocol and practice and reason behind with a leap of faith or fuss calling it "is up to stealing our data," is against the fundamental principle of the internet, is against my right to information granted by the constitution, blah blah. You can even blame that this website is acting like "above the constitution" and must be banned.
That's what happening in MCC debates. Everyone is either being "overjanne" and wants to position themselves as being better in drafting than those involved team or "puppets" of unseen power who is hell bend to serve their masters by creating a narrative to fuel people against MCC. And, then there are ignorant and misinformed people with prejudice towards anything the US does and thus being paranoid against MCC.
As MCC rightfully said, "we are not going to amend MOU after 3 years from signing the MOU. If you have a problem, you can leave. You are not forced to. We will find some other country." MCC knows how unstable Nepal is politically and how corrupted this country is and they know the kind of problem a bunch of political leaders and activists can create somewhere down the road, and they just want to make sure that they pass the project through parliament so that there will be less chance of anyone coming and dictating over set terms and plans.
To put it in perspective, you want money but I know your wife can fight with me at any time for giving you money, so I want to make sure she approves as well, so I ask you to take approval of your wife. What is wrong with saying that?
What should happen next?
My honest answer is NEPAL SHOULD NOT BE GETTING THAT FUND. MCC should be canceling the contract. And my gut feelings say they will. MCC is not going to regret Nepal losing the project. But sometimes in the future, we will.
As dozens of countries have been enjoying the fund, doing amazing things, Nepal too could be part of the privilege but then no, our nationalism and "overjanne" attitude is too damn high that we are just not ready for bigger funds and collaboration with powerful countries. We are here to get high over our own pettiness and ignorance and suffer. Maybe after a couple of generations, we will learn that we were thinking too much, acting too smart, poised with conspiracies and prejudices that we could not be trusted by any country who would like to help us generously for the greater good of humanity and the world.
FOR NO, These people are not able to realize that if MCC is all about "plotting against China," the US can do that without MCC. They just need to fund some media, some business organizations, some political parties, and their leaders and inject that 500 million dollars in the market in different ways and still get their mission accomplished. They also don't realize that so far US has provided many millions of dollars to assist Nepal through different agencies like USAID and all of them are coming with an open agenda of establishing and strengthening values that America as a country believes in.
The sad part in all these dramas is that no media has played such a strong role in informing people about MCC. Half-baked knowledge and misinformation rooted in conspiracy and prejudice instead are feeding people, creating more chaos and confusion. And then there are "anti-American" leaders and individuals, as an opinion leaders to provoke people against MCC.
For now, all I wish MCC never makes to Nepal and instead the money goes to the country and their people, who deserve it; who know to value it and embrace it without any hate, prejudice, or paranoia towards the donor country and its people. In the end, the money comes from American taxpayers. It should not be going to country or people who don't have positive views towards American and their values; should not be going to people and countries who only see America as a country to steal oil and resources, country to bring wars and chaos, country to westernize.
Until then, Nepal will be experimenting with its own nationalism, China/India bootlicking policies, anti-capitalism, Nepal-suhaudo foreign policies, and everything that makes up modern Nepal, its leaders, and its people. After all, we must be suffering by taking the current path to learning the right path. So, I guess it's part of the process of evolving as a country and society.
Again, that's my opinion. After reading till here, I will leave with some questions that you should be asking yourself.
How many countries who have received MCC money are neighbouring countries of China? If it is all about using the land against US rivals, what actually had happened in those countries?
Do you think those people from Nepal government who worked relentlessly to win the fund, who worked hours and days and months and years to get the MOU finalised were bunch of idiots and traitors and only those like Bhim Rawal and Sangraula were the genuine and wise?
US clearly and openly states that all its funds are part of its foreign policies to help the countries that carry and institutionalise liberal democracy, human rights, free market economy and many other values that US carries, and by doing so, they want to earn friends and supporters of US and its values. Isn't that what humans naturally do? Be there for like-minded and support and help them for shared values and visions?
How do you like to see Nepal in this modern world? Building a close tie with powerful countries from west, building a close tie with Russia/China and other rivalry countries from west or just be friend of nobody?
The information above, opinions in between, and questions at the end will give you a clear direction regarding MCC. Decide accordingly because MCC has become a political issue, though it should not have become so. Pro-American, Pro-west will see MCC is good for Nepal, as they believe we have shared values and goals. Pro-China, Anti-West/American, will see MCC as bad for Nepal because they see MCC stepping into Nepal will earn more American supporters and friends. We all are left with a choice to make per our own predisposition and political ideologies and beliefs. Make your own informed decision. I personally think MCC could have been a blessing to our country with that 500 million funds coming to our economy, but in this poised air, I feel bad for American taxpayers. May the money goes to the deserving country and the people, and we sit there and watch our idiocy driven by hypernationalism and anti-American paranoia.
A wise man once said, "Haami nepali haru sabda ma dherai aljinchau, garne kai hoina. Bideshi haru ko 2 page long plan ma sabai kaam huncha, haamro kai kaam hudaina, but 100 pages plan huncha, obsessing over words by words." That's exactly what's happening in MCC.
Hey KMAG Readers,
Glad to see you here. Since you are here, don't forget to drop your email address. We want to surprise you.
Much love and regards,
KMAG
What's Special Today: November 10
Chhath:
Historically native to the Indian states of Bihar, eastern Uttar Pradesh and Jharkhand and the southern part of Nepal, Chhath is one of those festivals that transcends the caste system that exists in the society. According to the Hindu calendar, it is celebrated on the sixth day of the lunar month of Kartik. The Chhath Puja is a 4-day long ritual specially offered to the solar deity, Surya, to show thankfulness for good health, good life and to request the granting of some certain wishes.
Day 1: On the first day, the devotees after bathing clean their house and eat the food that is offered to the god to protect the mind from the vengeful tendency.
Day 2: On the second day, the devotees are not allowed to drink even a single drop of water but, in the evening, they eat kheer made up of jaggery, fruits.
Day 3: The evening of the third day which is also known as sandhya 'arghya' day where a bamboo basket is decorated with various puja materials, fruits, thekuwa, and laddus which are offered as an 'argya' to the Sun. Also, the Chhathi Maiya is worshipped.
Day 4: On the last day of Chhath puja again an arghya is offered to the Sun God but this time in the morning. The devotees go to the riverbank to offer arghya to the rising sun and break their fast and conclude their four-day long worship.
Happy Chhath to everyone! Don't forget to enjoy some thekuwas!!
World Keratoconus Day:
Every year on November 10, World Keratoconus Day is celebrated to focus global attention on keratoconus and ectatic corneal disorders. The day was first celebrated by National Keratoconus Foundation.
Keratoconus is a disease that causes the cornea to become weak, leading to the thinning and stretching of the cornea, which may result in the loss of vision. Keratoconus is degeneration of the structure of the cornea. The shape of the cornea slowly changes from the normal round shape to a cone shape which affects the vision. The keratoconus mainly develops in teenagers and young adults and the disease keeps on growing, if not diagnosed in time.
The disease has no prevention and no treatment. With early diagnosis, the disease can be managed and further damage can be protected. In Nepal, the prevalence of Keratoconus is 1 in 2000 according to the recent journal. So, this world keratoconus day, make a commitment to visit an eye doctor once a year for the early diagnosis of keratoconus as well as other eye diseases.
Best and Worst Bank in Nepal as per our survey
We had conducted an online survey to find out how banking services in Nepal are being used and perceived by their users. This article is entirely based on those responses. Thank you Muktinath Bikash Bank for supporting us in conducting this survey.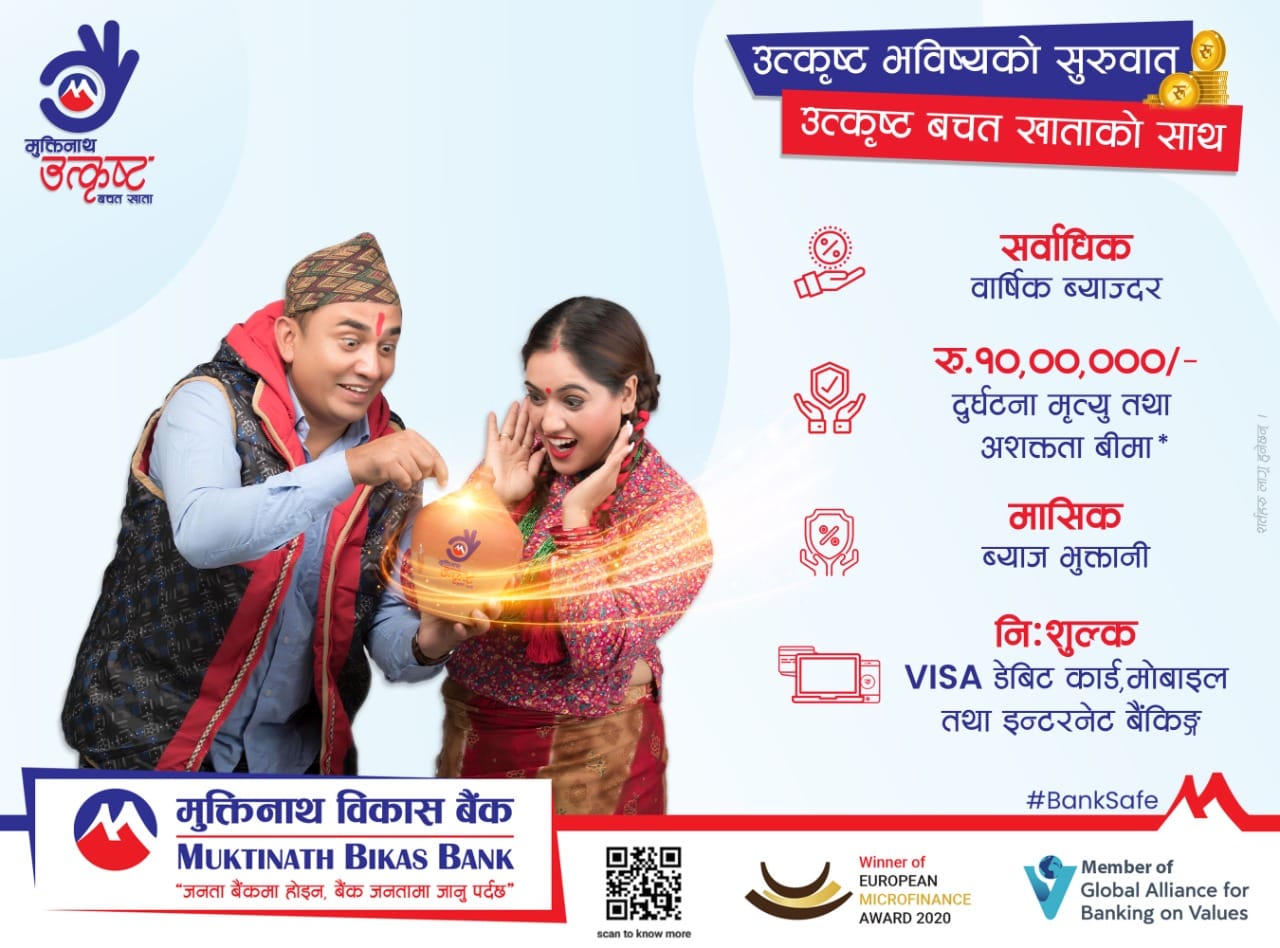 Over the years, Banks have become an integral part of our daily life and economy. With the shift to digitalization and modernization of the economy, banks have definitely made life easier for people to manage their cash and transactions. With these shifts and increasing dependency on banks more than ever, the use of banking services and users' banking experience is one of the topics with the minimal amount of research done. Out of curiosity, we conducted an online survey to find out how people have been feeling about the banking services provided by the respective banks.
About Respondents
Respondents were mostly urban educated youth with access to the internet, in the age bracket of 18-40, mostly being from 22-26 age group. The data was collected through social media users, primarily from page followers of KMAG. In total, we got 219 responses out of which 160 were males and 59 were females.
In the list of questionnaires, one of the questions was "which is your favorite bank from Nepal as per your own experience," and another being "which bank do you think is the worst." Among 219, 27 respondents were undecided and 192 casted their votes for "best" and the "worst." To build the conclusion on more strong foundation, we wanted to make sure respondents voice their opinion per their experience for which we had also asked them to reveal their primary bank.
Out of the total participants, a majority of 89.6% have multiple bank accounts though 19.5% of them just use one of those accounts. The remaining 10.4% claimed to have an only bank account. Out of all those banks, Nabil Bank is the primary bank for 36 participants (which was the highest no. of primary account holders in a particular bank). After Nabil, most of them were primary users of NIC Asia, Global IME, and Siddhartha Bank.
Nabil is voted as "Favorite Bank"
Nabil Bank seems to be the most favorite and popular among the respondents. With a total of 45 votes, it was voted the "most liked" bank. Among them, 29 were the primary account holders of the bank. Under "least liked," it only got 4 votes.
To briefly talk about Nabil Bank, Nabil Bank is an 'A' class commercial bank which was founded in 1984 A.D. (2041 B.S.). It was established as Nepal's first private sector bank incepted by multinational investors with the objective of providing modern, international-standard financial services. It was first established as Nepal Arab Bank Limited. In 1995, Dubai-government owned the majority of shares was bought by Binod Chaudhary.
NIC Asia is "least favourite"
With 76 votes for "worst bank," NIC Asia seems like the "least liked" bank from Nepal as per the responses. Interestingly though, it has also been voted as "favorite bank" by 17 respondents.
After NIC Asia, Nepal Investment Bank seems like the second "least favorite" bank from Nepal with 23 votes against the bank.
On being asked the reason for disliking the bank, most of the participants seem to agree on the same point and that is "terrible" customer service of the bank. Similarly, other reasons were bad internet/mobile banking facilities, fraud-like business practices, and lack of important banking services/products being provided by the. Not to forget few were unhappy about the lack of branch/ATM services.
The detailed data are presented in the table below:
| | | | |
| --- | --- | --- | --- |
| Banks | Primary Account | Liked | Disliked |
| Nabil Bank | 36 | 45 | 4 |
| Global IME Bank | 25 | 17 | 10 |
| NIC Asia Bank | 29 | 17 | 76 |
| Siddhartha Bank | 16 | 14 | 7 |
| Sanima Bank | 13 | 11 | 2 |
| Laxmi Bank | 12 | 10 | 1 |
| Mega Bank | 10 | 10 | 2 |
| Standard Chartered Bank | 9 | 8 | 2 |
| NMB Bank | 6 | 7 | 7 |
| Bank of Kathmandu | 5 | 6 | 1 |
| Machhapuchchhre Bank | 7 | 6 | 5 |
| Himalayan Bank | 7 | 5 | 9 |
| Sunrise Bank | 7 | 5 | 2 |
| Muktinath Bikash Bank | 4 | 4 | 2 |
| Century Commercial Bank | 3 | 3 | 0 |
| Civil Bank | 4 | 3 | 3 |
| Everest bank | 2 | 3 | 10 |
| Kamana Sewa Bikas Bank | 1 | 3 | 1 |
| Prabhu Bank Limited | 8 | 3 | 8 |
| Rastriya Banijya Bank | 3 | 3 | 9 |
| Agriculture Development Bank | 2 | 2 | 2 |
| Citizens Bank | 5 | 2 | 1 |
| Kumari Bank | 3 | 2 | 1 |
| Nepal Bangladesh Bank | 2 | 2 | 2 |
| Nepal Bank | 3 | 2 | 5 |
| Nepal Investment Bank | 15 | 2 | 23 |
| Garima Bikash Bank | 2 | 1 | 0 |
| Nepal SBI Bank | 2 | 1 | 11 |
| NCC Bank | 1 | 1 | 2 |
| Prime Commercial Bank | 7 | 1 | 2 |
| Manakamana Development Bank | 0 | 0 | 1 |
| Shangri-la Development Bank | 1 | 0 | 0 |
How to design a survey questionnaire
This article was originally designed for KMAG Online Writing Workshop and made available to public for knowledge-sharing purpose.
A survey is a list of questions aimed at extracting specific data from a particular group of people so that the surveyor can gain knowledge and insights into various topics of interest and then mostly generalize the result. How to design a survey questionnaire completely depends upon the purpose behind the survey. Depending on the purpose, questions are framed.
Let's understand this way, surveyor seeks to know anything based on either of the following grounds:
They don't know anything, they are curious to find out, and they seek for answers. Example: I don't know many people smoke and I want to find out by asking everyone out there.
They think they know but they are not sure and they want to find out if what they think they know is actually true or false. Example: I think 50% of Nepalese do smoke but I am not sure yet and I want to validate my assumption by surveying.
They strongly believe that what they know is the facts and now they want to interpret the world based on the "facts" they live by. Example: I strongly believe that smoking is bad and raising tax and making it expensive is the way to discourage people to smoke. I want to survey to find out how many Nepalese believe the same and agree with raising taxes and making it expensive would discouarge people to smoke.
Whatever grounds you are holding, you must frame your questionnaire according to that. So before working on the questionnaire ask yourself if you are trying to know the unknown or are you trying to validate or crosscheck what you think you know or you are trying to pass judgment or views based on your preset theory/hypothesis that your understanding is based upon.
This is how it goes:
You already have a theory and you want to analyze people based on the theory.
Let's take for example "Job satisfaction Survey." In this case, as per your theory/hypothesis, to be called "satisfied" one must be displaying so and so traits and views; if not, the person is not satisfied in his/her job. Based on that, you will be designing a questionnaire and see how many people meet the criteria to pass your judgment. If your theory says, highly satisfied people have flexible working hours, one of your questions will be something like "Can you come to your office at whatever time you want and can leave per your own wish as long as you are doing what you are paid for? Yes/No/Depends." Likewise, there will be other questions set in a fashion to funnel your judgment regarding what percentage of people are satisfied with their job and work.
You have a theory or hypothesis that you want to validate or crosscheck
In this case, you have an assumption but you are not sure of and you want to crosscheck or validate by testing it on people. For example let's say you think "Most arranged marriage people are unhappy," and you want to validate your claim or crosscheck the truth in it by surveying among arranged marriage couples. Your questions will be something like "If you have to rate your marriage in terms of joy and happiness in it, how much will you rate on a 1 to 10 scale?" followed by questions like "if you have a time machine, would you go back right before the marriage and take your time to find out someone to have a love marriage? Yes/No/Maybe"
You don't have any theory or hypothesis and you are only to find out unseen/unknown reality
In this case, you don't have any preconceived thoughts or assumptions and you are plainly trying to learn or find out in an open-minded fashion.  Like for example, You don't know how many educated youth from Nepal actually do smoke, nor you know why they smoke despite its negative effect and you are set out to find out the answer by surveying. In such surveys, your questions will be like "do you smoke? Yes/No. "If you smoke, how many cigarettes do you smoke per day?" "despite its negative effect, why do you still smoke?"etc.
Sometimes, you can have a mixed approach, wherein the topic of your interest that you are surveying on, part of it is something you strongly believe being fact, part of it is something you are unsure about, and part of it is something you don't know a thing about and you are willing to learn.  Like for example, you strongly believe happy couples display so and so traits, and you think couples from love marriages are happier but you are not sure of, and you don't know at all if personal happiness is valued more in marriage or responsibilities and social factors in the context of Nepal. So part of your questionnaires will be driven by your theory that you consider as being fact, part of it will be intended to cross-verify your assumption, and part of it will be purely seeking truth as it is without any deliberate attempt to frame your assumption.
Bottom line, you should know your ground, the purpose of surveying, what you intend to do afterward, based on which you should be working on your questionnaires.  Your questionnaires will be designed according to your intention, so there is no hard and fast rule but make sure, in the end, you gather all the relevant information so put together to build a conclusion and for that, you need to think about what all needs to be asked to fill up the blocks and connect the dots.