Untold history of Contemporary Mural Art in Nepal
When was the mural art/street art begun in Nepal? What was the reason? Who were behind it?
The article was originally published by Kailash K. Shrestha through his Facebook post in Nepali, which was translated by Aditi Upadhyaya . Kailash K. Shrestha is a visual artist & Founder of Artudio.
I still vividly remember that day – 28th May, 2011. The day the new constitution of Nepal should have been promulgated. But sadly, the promulgation of the constitution did not happen on that day. Soon after the turmoil, many of us young artists were raising our voices on the walls of streets through art, in a separate art movement. Young Nepali artists, students and many fellow enthusiasts interested in art were connected on social media through the mural (Public/Street Art) art movement "hami banauchhau deshlai/We make the nation", at the initiative of Artudio.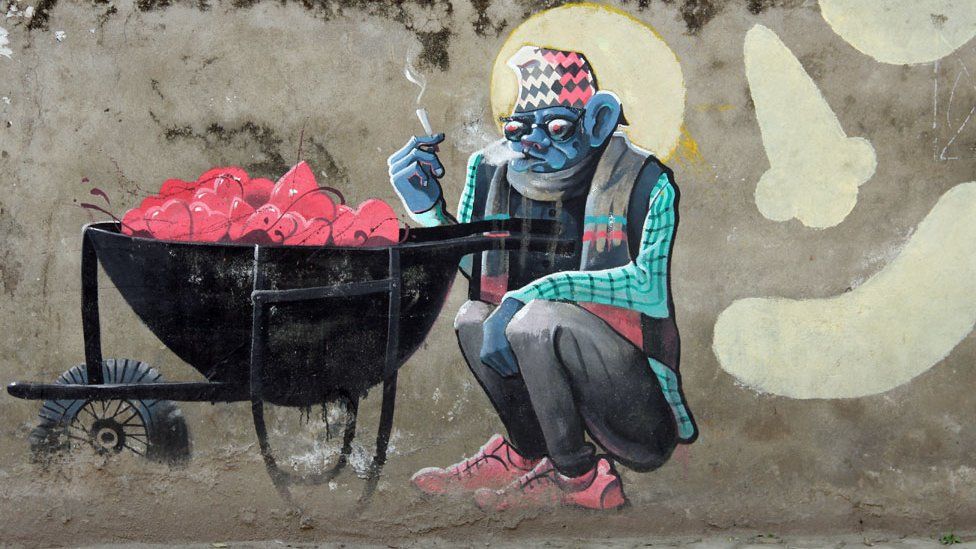 I still remember the political turmoil of our country back then, and the frustration and uncertainty this had brought to the general public. The chaotic, apolitical, insensitive and ugly thoughts and low level of consciousness of these political leaders seemed to add to the frustration and despair felt by the common people. As the identity of our well-civilized city of art and culture started becoming wrapped in negativity, we young artists, as an alternative, wanted to initiate and lead a revived art movement.
We realized that we have an important role to play in this society of artists and art. Art does not divide but instead unites society, makes us not superstitious but curious, makes us feel not inferior but proud, provides a unique identity, and plays many other similar roles. This is why I have been saying that "art is power" of the individual, society, state and the world.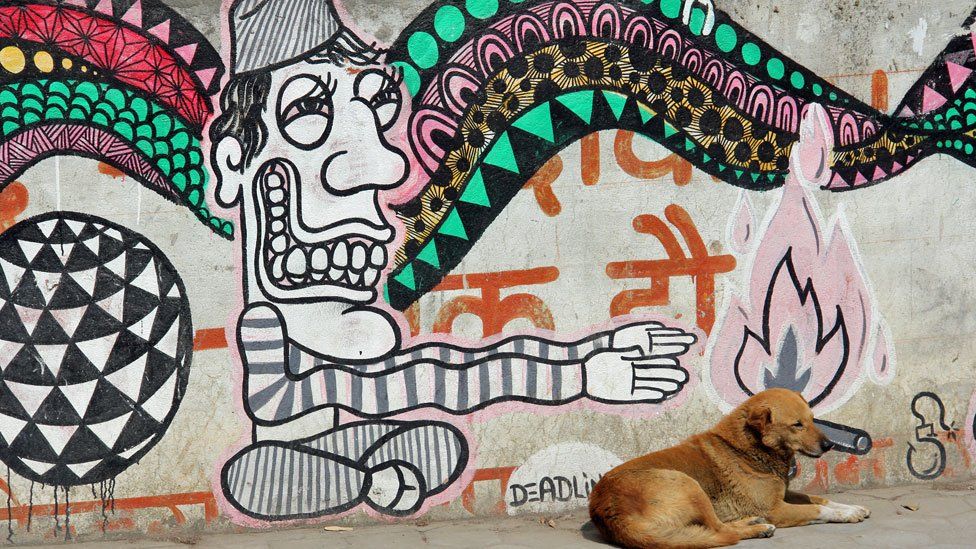 Then we went to submit a letter seeking permission, stating that we wanted to make the general public proud of our art and culture again through art itself. I still remember the day when honest and sensitive artists with pure hearts and morals were trying to give artistic gifts to the common people through the ugly walls of Kathmandu had to return empty-handed without being granted the permission to do so by the state then.
When the state rejects a gentle request, a powerful rebellion and movement begins.
The collective art movement that started with a loud and clear voice on a mural, "Hami banauchhau desh lai/We Make the Nation" was a result of the same. The idea was to start the art movement from the walls of Ratnapark, where hollow political slogans and commercial posters were abounding. However, even though the movement could not start from there due to security reasons, a letter was sent to the Himalayan Hotel in Kupondole seeking permission to begin the art movement from the wall on the street outside the hotel. I believe this movement has come a long way since then.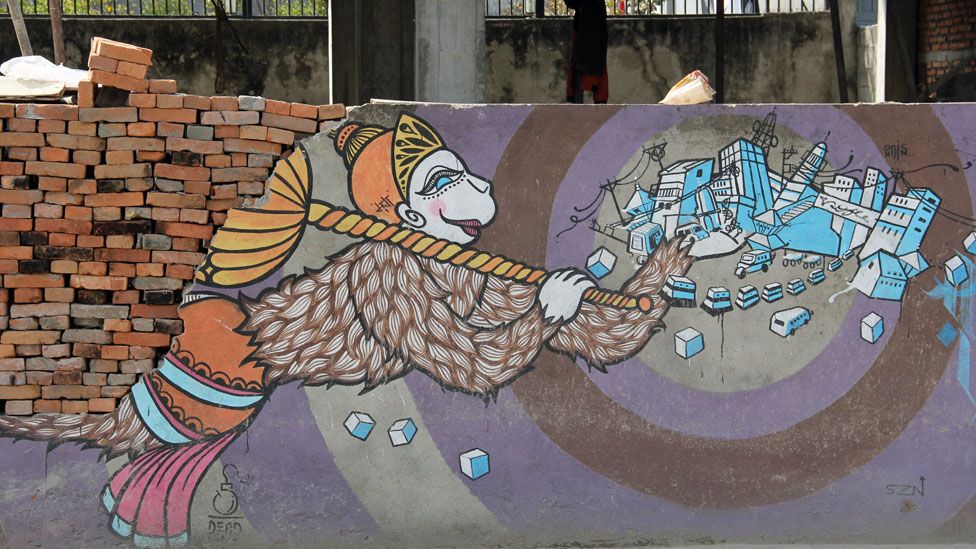 The movement aimed to remove the hegemony of art limited to galleries that had been vested on a particular segment of the population, and bring it to the walls and streets in the community. This journey took its baby steps back then, and is gradually moving forward.
Happily, many young artists have since taken to the streets to raise their voices. The state, in particular, should have been proud of this and should have worked on policies for the benefit of artists and the upliftment of art.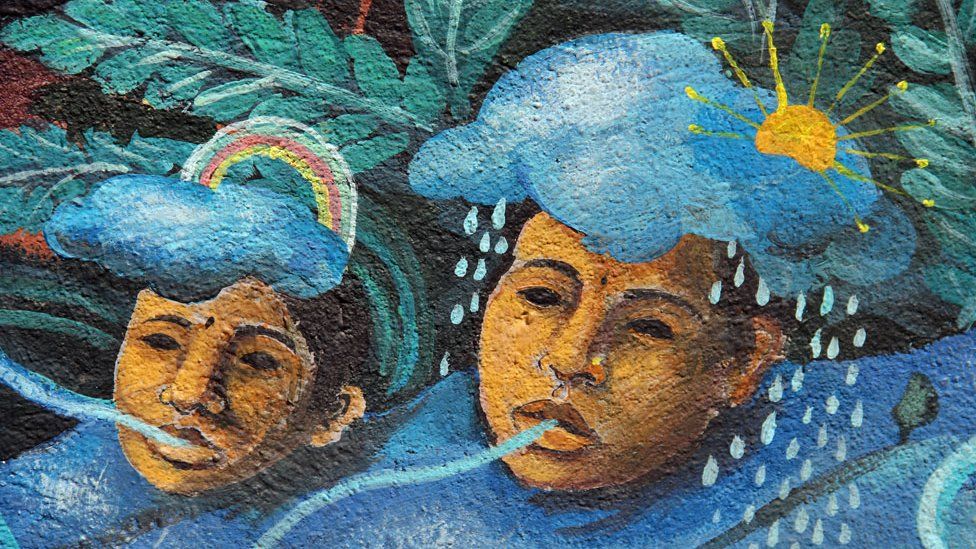 Almost 10 years have passed since then, but the consciousness of the state is falling to an even lower level. This is a matter of great concern and debate. The recent move by the Kathmandu Metropolitan City on the graffiti of young artists has made clear how very little consciousness and sensitivity the state holds when it comes to art.
May we all become aware of!
We had asked Kmag page followers to share their rape story and had provided them a google form to fill anonymously.
We asked them the following questions:
Gender.
If was an attempted rape or was raped.
Their age when the incident happened.
Raped by whom.
Where the rape had happened.
Have they reported or talked about it with other ?
Did the person rape again or was it only once?
Any other similar incident later in life.
Do they get to meet the rapist in everyday life
Detail of the incident.
Responses:

---
Story #1
Gender: Female
Raped/ Attempted: Attempted.
At the age: 22
Raped By: Boyfriend
Location: Cousins Place
Reported (yes/no): No.
Frequency: 1,
Any other similar incident: No.
If gets to meet the rapist in everyday life? Yes/No: No
He was a dominating man. He tried starting touching me and kissing me. I wasn't ready, I retaliated. He created a big scene in front of my cousin(she knew about my relationship). I was so embarrassed. My cousin got very angry and threatened to call the police. He cried and asked for forgiveness and we forgave him. A year later we broke up, it was a bitter one. He sent message to all my friends and relatives that he slept with me and I asked for it. My character was ruined. This incident still haunts me and I feel this relationship was a big mistake of my life.
---
Story #2
Gender: Female
Raped/ Attempted: Touching of intimate parts/molestation
At the age: 6
Raped By: Cousin
Location: Aunt's House
Reported (yes/no): Yes.
Frequency: 1,
Any other similar incident: No.
If gets to meet the rapist in everyday life? Yes/No: Yes
I was pretty much a kid that time. We were playing at my aunt's house. I have a very blur memory of it but I remember he asked me to undress myself. I was very young to understand that it was totally wrong so I did so. I remember he ran his fingers all over my body and few minutes later he told me to put on my clothes. I could not decide what actually had happened that particular time. Few months later I was told by my grand mom that anyone touching your intimate parts is wrong may it be whosoever. Then I had come to know it was wrong. Next time when he asked me to undress me I denied. But I still didn't know that I had been harassed. It was after 6-7 years when I had started to have knowledge about sex education I realized I had been harassed. I had shared this to only 3 people in my life until now.
---
Story #3
Gender: Female
Raped/ Attempted: Raped
At the age: 16
Raped By: Boyfriend
Location: House
Reported (yes/no): No.
Frequency: 1,
Any other similar incident: No.
If gets to meet the rapist in everyday life? Yes/No: No
He was my first boyfriend. He was much older than me – about 24 at the time, I was 16. I was home alone and he came to my house. I wasn't sure if he should have stayed, but I was too timid to say no. Later that night, he coerced me into having sex with him. I was at the end of my periods and I told him so. I was too scared that he'd leave me if I said no directly. I was a fat girl and he was a really good looking guy. My friends used to tell me that I didn't deserve him, so I was scared. He kept pressuring me saying he didn't mind the periods. He then started to touch me, fondled my breasts. I wasn't very comfortable, but I don't know maybe my body gave in. Then I said "no, I don't want this, we shouldn't do it." I was a kid, I remember I couldn't be very assertive and he took advantage of that. He just kept going. I don't know how I'm writing this right now. I've never told about this to anyone. Matter-of-fact, I've tried so hard to forget about it, I've probably done a good job, I don't even remind it to myself anymore. He had sex with me, it was painful and I tried to stop my screams. In my mind, I was too pressurized with the want to "fit in, be wanted". After he was done, he stayed the night. I stayed up all night. I was dazed, confused at what had happened. I didn't know what to do. I remembered he had used a condom so I hoped I wouldn't get pregnant. I broke up with him a couple months later. And it took me a couple years to realize that what had happened was that, in fact, I'd been raped. Now that I look back, I think, perhaps I could've stopped him, perhaps I could've just not let him in to my house. What if that incident hadn't happened to me? Now they'll always remain the "perhaps", and "what ifs"
---
Story #4
Gender: Female
Raped/ Attempted: Attempted
At the age: 13
Raped By: Neighbor
Location: House
Reported (yes/no): No.
Frequency: 1,
Any other similar incident: No.
If gets to meet the rapist in everyday life? Yes/No: No
We used to live on a same flat with a TV room shared by both family. It was during school vacation. Both his and mine parents were in office. He was an only child and may be of 15 or 16 of age. I have my elder brother and sister but I don't recall where they were at that moment, may be playing somewhere outside the house. I was watching TV, some Indian soap opera. He came in the room after playing and sat beside me. We had some normal conversation, like he said to change channel, i denied and asked him to play outside and let me watch tv alone. He suddenly pushed me and i fell on the ground. He came over me and before i could push him away, he held my hand and tried kissing on my lips. I kept turning my head left and right, in order to avoid his kiss. I kept on telling him to leave me, and started crying. But he was stronger than me, and i was not able to release my hand from his grip. I started using my legs, tried kicking him, i used all my energy. I kept on trying to release my hand, kept turning my head and kicking him. Luckily I slipped my hands from his grip, pushed him away, and ran to my parents room and locked the door. I was so terrified and cried my heart out, and slept off in my parents bed. I woke up only after my parents came home and knocked the door. I couldn't tell them what exactly had happened, i wasn't able to understand myself and didn't have enough guts to speak up. The hardest part was to continue living with that same guy under the same roof. After that day i only watched TV when at least someone was in the house and most of the days i used to insist my parents to take me office with them. The perks of being a youngest child, they never denied. I kept wishing for school to reopen quickly, so that the incident where i had to interact with him or at least see his face would decrease, because of homeworks and weekly tests. We kept living on the same for another 6 months and they shifted in the other house. The effect of that incident become severe as i grew up. Even though they shifted but were on the same colony and every now and then, i have to pass by him. And that unashamed devil, used to call me and ask how i was. I never replied to him, and tried my best to avoid him. Every night i used to plan in many ways by which i could kill him. Until i didn't pass my SLC, the same thought used to come in my mind. I never trusted a guy, and didn't have a single guy friend during my school days. I have few now, but still have a big trust issues. After SLC i came to KTM for further studies, and in the process on settling in the new place, that incident and his face faded from my mind. I say to myself that i have moved on, but still i haven't been able to share this story to any of my trusted friends. I don't watch TV even now, thanks to Youtube, I don't feel the need. And it might be the side effect of that incient, i cannot befriend any mongolian, girl or guy (that guy was a mongolian). Trust me when i say this, i might have mongolain on my fb friendlist, but not a single one in my close circle. Now when i hear the rape cases so frequent, i feel so guilty. If only i had reported it that day, may be some other girls would have been safe. He may have tried the same with others as well, thinking whatever he would do, girls will remain silent.
---
Story #5
Gender: Female
Raped/ Attempted: Attempted
At the age: 7
Raped By: Not disclosed.
Location: Relative's house.
Reported (yes/no): Yes.
Frequency: Multiple
Any other similar incident: Not disclosed.
If gets to meet the rapist in everyday life? Yes/No: No
It might shock you to know that I wasn't only molested by male but a female too. She used to work as a maid in my neighbor's place. She used to touch and rub my private parts and used to ask me to do the same with hers. I was hardly 5-6 years that time. Then later I've been victim of such molestation so many times In my life sometimes by my own people and sometimes from outsiders. I was lucky enough not to be raped. I somehow managed everytime to escape though it used to haunt me every single night when I understood what happened to me years or months back. When I wasn't even able to understand that the things that were happening to me were even right or wrong. But somehow I felt that it's not right so was able to escape from there each time.


---
Story #6
Gender: Female
Raped/ Attempted: Attempted
At the age: 11
Raped By: Not disclosed.
Location: Uncle's house.
Reported (yes/no): No.
Frequency: Multiple
Any other similar incident: Yes.
If gets to meet the rapist in everyday life? Yes/No: Yes.
(I was barely 8-9) : My dad's co-worker used to touch me all over and kissed me on lips all the time. I didn't talk about it, because no one taught me to.
(I was 10)My relative pulled my pants out when I was sleeping. Touched me all over. I pretended to be asleep because I was so scared. Someone knocked on the door. He stopped. No one ever knew. I didn't talk about it because no one taught me to.
(I was 17) :I was coming back from my tuition. A group of guys made a fake crowd and groped me. Made me touch their dicks. Someone heard my screams, they ran away. I didn't talk about it because everyone got irritated when I tried to talk about it.
(I was 19): I was drunk. I liked a guy. That guy thought it was okay to kiss me, get me to a hotel room and fingered me. When I asked him, he said I directed him. I had not. But he acted like I did. I couldn't talk about it because no one taught me to.
---
Story #7
Gender: Male
Raped/ Attempted: Raped
At the age: 8
Raped By: Cousin brother.
Location: Home.
Reported (yes/no): No.
Frequency: Multiple
Any other similar incident: Same person.
If gets to meet the rapist in everyday life? Yes/No: Yes.
He was my cousin brother around 10 years older than me. Used to come our house. One day I was sleeping and at midnight I was awake. He was playing with my personal organs. I was scared but he did it forcefully.
---
Story #8
Gender: Female
Raped/ Attempted: Raped
At the age: 4
Raped By: Uncle (far relationship).
Location: Home.
Reported (yes/no): No.
Frequency: Multiple
Any other similar incident: After I became victim on my small age which went unheard One of my relative whom I though "nice brother" tried to raped me after I had my first menstruation. At that time, I was maybe studying in grade 6/7.
If gets to meet the rapist in everyday life? Yes/No: No.
I didn't know what was happening with me when I was little. My reproductive parts are still unhealthy because of that case. When I grew up I understood that it was the attempt of rape. That uncle whom I still hate to see though we are of same family tempted me by giving lollipop. I still recall those scary moment how he called me at his home and gave me lollipop and told me to lay on bed. T.V. was on. How could that little girl sense that he was taking advantages of her? I lied on bed and watched t.v. I felt pain but lollipop was on my mouth. He told me to keep quiet and I did. Maybe I had fear. I didn't tell to anybody. But later on I started to have health issues on my vagina and I don't remember how and what I told in my house. And I didn't remember it until next attempt of rape happened to me. It was summer vacation. I went to one of my relative house. And my mistake was to sit on far yet close relative of that time. I denied to sit there but I stayed there thinking positively. I stayed up one night on the same room where that guy slept. We had very good relation of brother n sister until that. On the second day, I slept early and I didn't know when he slept next to me. I woke up in the middle of night and realizes some one is touching on my vagina. I was blank. Thinking that if I cried , he might killed me. Saw on movies* I was literally numb. didn't know what to do. He was running his fingers and touching my vagina. I had shared him that I recently had my first menstruation. That was scary night. He jumped above me and I took a long breathe and he moved away and pretended as if he was sleeping. I hate him and his family. I told about this to my family but they still have connection with them. I wish I would have reported it to police.
---
Story #9
Gender: Female
Raped/ Attempted: Attempted
At the age: 7
Raped By: Neighbor guy.
Location: Jungle.
Reported (yes/no): Yes.
Frequency: 1
Any other similar incident: No.
If gets to meet the rapist in everyday life? Yes/No: Yes.
I along with my frens were playing in jungle little away from our home. That sinner came, forcefully captured me and took my clothes off. My frens were scared as well but all of were very small and therefore could not resist much. It was jungle area so there was none in sight. I cried
and cried when he tried to penetrate into me. We then somehow escaped and I ran into my mom and told the entire story. Police came that evening and arrested him.
---
Story #10
Gender: Female
Raped/ Attempted: Raped
At the age: 8
Raped By: Uncle.
Location: Home.
Reported (yes/no):
Frequency: 1
Any other similar incident: No.
If gets to meet the rapist in everyday life? Yes/No: Yes.
I knew nothing about it before it happened to me. I had no idea what it was said for even months after the incident happened. We kids shared a room with our uncle cause we grew up with him, he was the one to teach me ABCD. And one night when my siblings were away from home and I was alone, he woke me up in the middle of the night and came to sleep with me. It was normal for me cause I used to sleep with him when my parents were away. But then he started undressing me and things happened all of a sudden. I had no idea what was going on. All i could feel was unendurable pain and a giant body pressing against me, suffocating me. After he was done he whispered in my ears "Don't tell about it to anybody. Nothing will happen, you aren't 20 yet". What will happen if I am 20? What was it that just happened? Why am I not supposed to say it to anyone? I was too innocent then. Little did I know I was raped, that too by own beloved uncle who held my hands and taught me life.
---
Those bone-chilling stories above are the reality we live in but we don't talk about. Most of the rape incidents if you look at, perpetrators are no one but friend or someone from family or neighborhood and some cases, lovers.
Hey KMAG Readers,
Glad to see you here. Since you are here, don't forget to drop your email address. We want to surprise you.
Much love and regards,
KMAG
Who gave my name and what's the story behind
Having a child is probably the second most exciting thing. The child is a dream, is a hope, is a mission for many parents and their nearer/dearer ones. Child becomes the reason and purpose…the brand that they plan to outshine. So, if you go by name, name is not just a name, but a window to look into human world; understand their joy, their faith and belief, their taste and preference. There is so much of "awe" behind each name that may bring joy of tears.

Something just like that happened when we asked KMAG followers to share the story behind their name. Don't miss any. Each name has such a lovely and adorable story that it feels like watching a movie.

Pooja Subedi
From: Uncle
Story: While uncle was in school, there was a sweet girl name Pooja. She was once proposed by somebody, and she called her brother to beat crap out him. Uncle was so impressed with her that she gave the name to me saying "may my niece be like her."

Ashmita Poudel
From: Mom
Story: My mom named me after Asmita Adhikari dijju who happens to be my mom's favourite teacher's daughter.
Rejina Rosemary Giri
From: Mom
Story: Mom used to have a foreigner teacher at her school and she use to teach my mom English. She liked that teacher and her name so much that she gave me the name.
Rosha Lawati
From: Eldest Cousin Sister
Story: She mentioned earlier that she used to have a friend named "Rosha". Maybe they both shared good friendship bond and there it happened!
Srijana Karki
From: Parents
Story: I had a sister who died in seven months after birth, my family was very poor that they couldn't afford good nursing, medicines, so she died because of her illness in that early age. Mom told me, she was very beautiful, baba was so happy when they had her , but it was getting difficult for baba to get over the pain of her death, he seemed hurt all the time. Then after they had me they put her name to me. It hurt me when I knew this but still it's life, acceptance is all that we can do so I'm happy that I got my sisters name and I love my name and I'm proud of it.
Kristina R L Rana
From: Father
Story: My dad followed Christianity for a while just out of curiosity and thus my name happened.
Jeetu Shrestha
From: Father
Story: My dad's favorite actor back then was Jeetendra so he gave that name to me.
Regan Basnyat
From: Grand Father
Story: My grandfather was the biggest fan of 40th president of US Ronald Regan, so he named me after him.
Khusboo Thapa
From: Father
Story: My mothers friend had actually thought of a good arabic name starting with khu for a baby boy as I was mistaken for being a boy while in the womb so my father thought it would please my moms friend for naming me khushboo.
Subekchya Shrestha
From: Aunt (Thulomummy)
Story: My thulomummy accidentally said my name while I was taken for vaccination (later both my mom and thulomummy forgot what they named me while the nurse was calling out my name). Later on, this was the final name I got as it nearly matches with my brother's name!
Ashtha Karki
From: Father
Story:  My father named me Aastha after 'Asthalin'. My grandfather was Asthma patient and he constantly forgot his medicine's name. And, here we are!
Dilip Neupane
From: Cousin Brother
Story:  One of my cousin brother named me after Dilip Rayamajhi
Krishna Sharma
From: Grand mother
Story:  I was born one day before Krishna Janamastami, so my grandmother named me Krishna.
Jyotsna Chandra Mahato
From: Father
Story: My daddy kept my name as Jyotsna which means moon light,because he always says I will bring lightness in every darkness.
Johnson Shrestha
From: Father
Story: Funny story, my name used to be Eric actually, and then my dad saw the "Johnson's baby powder" commercial, and long story short, here I am.
Aarjan Baskota
From: Grandmother
Story: My grandmom found money in the Birgunj bazaar at the day of my birth, so, she named me Aarjan (आर्जन) which means to earn.
Birodh Ghising
From: Father
Story: My dad named me Birodh on 3rd day of my birth. He named me Birodh as he was big fan of parliamentarian Birodh Khatiwada, a communist leader and father of Miss Nepal Shrinkhala Khatiwada. During the year I was born, Birodh Khatiwada was a very famous communist leader for his oratory skill second to late Madan Bhandari and my dad was huge fan of his speech skill so I was named as Birodh, a very unique name.
Raviya Shakya
From: Aunt (Sano Mummy)
Story: My sanomomy used to watch Pakistan serial at the time of my birth.So she liked the name Rabia.But my mom changed the spelling as Raviya.
Kamaleshwar Prasad Pathak
From: Father
Story: My name has Kamal and Ishwar within – the god on the lotus. It is the alternative name for lord Vishnu and my daddy chose it.
Kusum Karki
From: Grandmother
Story: My grand mom named me as Kusum because while my mom was in labor giving me birth, the doctor's name on duty was Kusum and she loved it so she gave me this name.
Avinash Tiwari
From: Grandmother
Story: My grand mom named me. I was diagnosed with Pneumonia and Jaundice when i was just of 6 days. She wanted me to have a healthy & long life. But she left me alone with her name given to me. I loved her and miss her.
Santosh Giri
From: Father
Story: My father gave me the name since as a child I was easily placated and satisfied, hence my name means satisfaction.
Rachel Pradhan
From: Father
Story: My father named me after Rachel Carson- American Marine Biologist.
Sajjan Utsuk Sapkota
From: Father
Story: My middle name is Utsuk which was added by my father even in the citizenship. Actually it is his nickname. Our businesses are named on it. He kept it as his nickname during his college days where there was a trend of doing so. While others were keeping names like, "Udaas", "Pyasi", "Yatri", et cetera, he opted for "Utsuk". This name can be recognised well in Nuwakot now which is actually a proud thing. Even though he don't carry this as his official name, people know him by it and also me.
Madhav Kushwaha
From: Father
Story: As its the alternate name of Lord Krishna and he was also born after a lot of struggle. Hence, similar story in my family.
David Acharya
From: Grandfather
Story: I am the youngest child of my parents. Until I was born, the financial status of my parents wasn't good. So my Grandfather (who gave me this name), decided to name me as 'Debit' (as in Accounting (Debit/Credit)), and believed, with my arrival in the family I would bring some financial prosperity. And my father modified it as 'David'. That's the one and only name I have.
Sumana Shahi Thakuri
From: Aunt
Story: My aunt loved her best friend's name so much that she gave the name to me.
Gauri Bomjan
From: Teacher
Story: My teacher because he thought my original name was weird. I think one thing a teacher should never do change the students name.
Jamoona Aryal
From: Mother
Story: My mom told me that god gifted me this name. Because I am a twin.
Dikshya Karki
From: Father
Story: My father named me Dikshya,as he was working under ministry of education,at that time. So it was like,sikshya -dikshya.
Rasu Budhathoki Thapa
From: Father
Story: One of his friend has their film production house name called "Raskala production " . My dad was influenced by him. And hence called me raskala and in short my fam started calling me Rasu.
Arseen Sonu
From: Father
Story: My dad named me 'sanu' meaning small as I am 2nd child of my parent. People used to get confused and pronounce my name differently like 'saanu' for sanu. So got my name changed to 'Sonu' for 5th standard district level exam (which is no more in practice now). Then in 2014 I got converted to Muslim and Hazrat named me 'Zainab'. Which I somehow felt not me completely so changed my name myself to 'Sonu Zainab' following legal process.
Bhagabati Maharjan
From: Mother
Story: My father got into jail for an accident case while I was just 1 week old and the Chaitey dashain was in the end of the month. My mother prayed and made a pledge (bhaakal) for naming me after a goddess and a contribution of a black hen if dad got released, since she's a extreme Hindu follower.My dad got out from the case and I was named Bhagawati to fulfill the pledge.
Shiva Ram Ghimire
From: Teacher
Story: My Nepali teacher during grade 1 changed it. My name was Manish and there was another student named Manish too so he changed my name as my brother name is Shree Ram.
Sistata Basel
From: Mom
Story: My mom's name is Namrata, so she called me Sistata.
Anil Bista
From: Mom
Story: My mom named me Anil because once she heard it somewhere and she loved the way it sounds . For her it's a pleasant word to hear.
Bijay Adhikari
From: Mom
Story: My mom said I was born in Bijaya Dashami so they named me Bijay.
Amshu Kiran Shahu
From: Father
Story:  My name was AmshuVerma given by my granddad who loved it, but later My dad changed it to Amshu Kiran.
Rabi Bhusal
From: Family friend
Story:  I was born in India. And was born on Sunday, so one of my parent's indian friend called me Ravi (since Sunday is known as Ravi Baar there).But, in my school they wrongly registered me as Rabi Bhusal, and the name stayed.

Anupam Raj Bhattarai
From: Father
Story:  Anupam means upama nabhayeko, which refers to being one of the kind. my father loved the name and kept it.

Robin Gurung
From: Neighbor Aunt
Story: My neighbor aunt gave me my name as she was fan of tales of Robinson Crusoe,after she didnt like the name given to me by the priest which was Suk Bahadur Gurung.

Siddhant Yadav
From: Father
Story: My father once watched Govinda movie,So he kept my name on role the govinda was playing.

Ajara Bhattarai
From: Mother
Story: My mother named me ajara because it means immortal.

Prajwalla Dahal
From: Mother
Story: My mom wanted to be creative and she was saving me from a traditional name my baba wanted me to have.

Ruchika Shakya
From: Mother
Story: She came across some directors daughters name and loved it. So, she kept my name with that.

Shraddha S Adhikari
From: Parents
Story: Shra is intial of dad's name and D is of my mom and also it's my grand mom's name modified too. So, they kept my name as Shraddha.

Asmeeta Sapkota
From: Mom
Story: There was a serial whose lead character's name is the one I got, mom loved the serial so she named me after her.

Salina Chapagain
From: Sister
Story: My sister kept my name because she had a friend with this name. But after few years the girl after whose name I was named by died. I dont know the exact meaning of it… but it is closely associated with the word " शालिन " which means peaceful.

Chandani Tamrakar
From: Dad
Story: My father was obsessed with Sridevi, so he kept my name Chandani (after one of her famous characters.)
Aren't the story so AWEEE!!

Do you have a story behind your name as well? Comment stating what's the story behind your name and who gave it to you and we will add that in the list above.
What did I learn from previous relationships?
As humans, we are naturally built to crave connection. We want to love and be loved. No wonder, relationships occupy a major part in our lives. But "Happily Ever Afters" do take a lot of time, dedication and effort. Not every one of us are blessed enough to marry our first love. We go through lessons after lessons until we find the right one. But most of them are painful. Can't we skip them?
Below are the few similar lessons from Quora that people shared from their own personal experiences. I hope these lessons save you from years of heartaches.
You learn self-love.
It is a well known fact that you can only pour out what you have. If you lack love yourself, how are you supposed to give it to another person? Self love is a basic foundation in any relationship. When you respect and value yourself, you can give the same to your partner. Lack of self love leads to low self esteem, which will slowly eat away your relationship.
Andrew Ferebee wrote,
"In several relationships, I would begin prioritizing my partner so heavily that I would stop taking care of myself. Look, you won't be able to be the man or woman they need if you aren't taking care of yourself. Eat well, get plenty of sleep, go to the gym, prioritize alone time and realize that all of these activities will make you a better partner… Not a selfish partner." He continues- "Simply put, without self-love, there can be no love for others. You'll constantly be using others to gain validation and approval instead of giving yourself validation and approval and then inviting others on the journey with you."
And honestly, I think this lesson needs to be heard by all.
Communication is the key.
Admit it, no matter how well people claim to know each other, people can't read minds. And that's the most important reason why you should always communicate whatever you're feeling. Silence isn't always golden, is it? Ankit Verma writes,"Only those relationships work where there is equality, maturity and active vocal communication about the problems, from both sides." Yes indeed. When you are vocal about your needs and problems, you can sit and fix things like how it should actually be done.
Another thing that you should know is, " People speak different languages of love"- as Kwasi Baako states. Most of the time, the reason that your relationship isn't working out is because your language of love doesn't match with that of your partners. When this happens, s/he may not feel loved despite your best efforts. In such case, the first thing you should do is communicate with each other and solve the misunderstanding.
Keep your dignity- Learn to let Go.
When a relationship ends for the first time, it feels so devastating that you try to hold on – especially when the breakup is coming from the other person. Your mind will play a thousand tricks on you, because it loves the feeling of familiarity. When such a situation arise, know that it's the time when life is testing you. You clinging to a person who deliberately chose to walk away, is only going to give them an ego boost and nothing more. Don't give in- trust me, you are only extending your heart break.
Kwasi Baako writes- "NEVER EVER GO BACK TO PEOPLE WHO WALK AWAY FROM YOU — it's a waste of your time , your energy and the highest form of disrespect to you,"
And yes, that is the truth, no matter how bitter it sounds.
You gotta be independent.
Udita Pal talks about three types of independence that everyone should learn- Financial Independence, Emotional Independence and Social Independence. I don't even have to explain much because she made it so clear herself.
In her own words-
"There are three kinds of independence I'm talking about.
Financial independence: It doesn't matter who earns more or less; you need to be at a place where your partner or not you can manage your lifestyle. It would be best if you want a partner, not an ATM.
Emotional Independence: A lot of people go through depression immediately after the breakup, which is normal but you need to understand you are more than someone's partner and relationship or not -you are still going to exist.
Social Independence: You need to have friends outside the relationship and for sure out of the mutual circle, you need people around you to continually remind you that you have someone other than one person looking out for you. And most importantly, never ignore your parents and close ones for your partner."
Say yes to healthy boundaries.
Andrew Ferebee says," You need to know what you will and will not tolerate in a relationship and have the guts to actually enforce that."
Basically, establish healthy boundaries, communicate them and maintain them. You have to know the difference between healthy and unhealthy compromises in a relationship. When you compromise thinking they would change in the future, you are only sowing unresolved conflicts that will show up one day or the other. If you aren't happy with your partners' habit in the beginning, chances are you won't be happy with it five years down the lane.
In the end,
These are only a few among the hundreds of lessons that people shared on Quora. You can definitely check it if you want to read more. But remember, failed relationships never means that you failed your whole life.
Yes I do understand that it may have been a good relationship. But my darlings, good relationships doesn't necessarily have to be right ones for you !!!