Voyager 2 probe enters interstellar space
For the second time in history, a human-made object has reached the space between the stars. NASA's Voyager 2 probe now has exited the heliosphere – the protective bubble of particles and magnetic fields created by the Sun.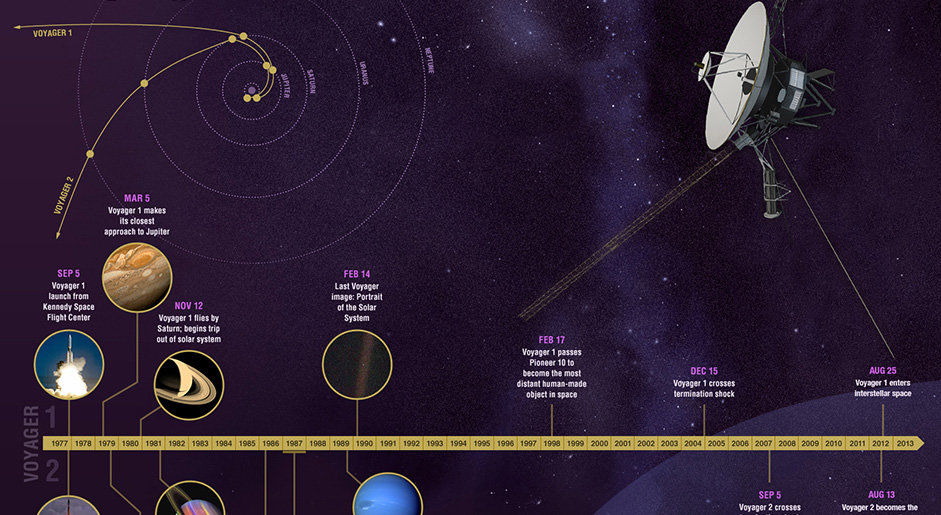 Voyager 2 now is slightly more than 11 billion miles (18 billion kilometers) from Earth. Mission operators still can communicate with Voyager 2 as it enters this new phase of its journey, but information – moving at the speed of light – takes about 16.5 hours to travel from the spacecraft to Earth. By comparison, light traveling from the Sun takes about eight minutes to reach Earth.
The Voyager story has impacted not only generations of current and future scientists and engineers, but also Earth's culture, including film, art and music. Each spacecraft carries a Golden Record of Earth sounds, pictures and messages. Since the spacecraft could last billions of years, these circular time capsules could one day be the only traces of human civilization.
Fractals: The beauty of order within the Chaos
From the veins of a single leaf to a whole of a rainforest, at first glance everything that's around seemed random and chaotic. When scientists and mathematicians looked at it no one was particularly intrigued by this unexplainable chaos. This led to everyone curling back to the world they created and could explain. Circles, lines, triangles etc were simple, easy and something that we could easily put into mathematical words as equations. Our artificial world was built around it. But as we went into explaining the true shapes of nature, most of it won't fit into this simple geometry.
Then in 1980 a mathematician named Benoit Mandelbrot, then working in IBM discovered the Mandelbrot set. His equation looked something like this:
z->z ² + c
The equation took an initial number and gave an output and again used the output as initial number. The equation was iterated millions of times. The result was plotted and the figure above is what he got from the plot.
This psychedelic looking image when zoomed in on, repeats itself and never ends. The randomness of the simple equation when first plotted with few numbers, after thousands of iteration repeats itself and produces such complex pattern. He named it the "Fractals", as the geometry was fractured but the shape had order and can be produced by simple equations. This opened up a whole new world of natural mathematics.
From graphically designing mountains, flowing lava in movies to studying the natural phenomenon like weather patterns, building compacted antennas; Fractals geometry had numerous implication. When we search around our real natural world, the pattern of delta formed by rivers, the branching of trees, the inside of our lungs, the beating of our heart and most of the nature is found to be following this fractal geometry.
After watching the world around us through the fractals, this chaotic and random nature has a much simpler order and beauty within the seeming chaos. Pleasing to eyes and satisfying to the soul these fractal patterns, irrespective of naturally occurring or computer generated resonates perfectly with every human to some degree. This leads some to believe that maybe even our mind itself is a fractal, as infinite as it is and well compacted with a skull.
Lichtenberg figure is fractal and closely resembles the thunder-lightning.
The shell shows a fractal pattern
Veins in leaves are fractals
How Einstein Discovered Time Travel
In the year 1905 A.D, Einstein published his work that later came to be known as the "theory of special relativity". The paper consisted of ideas that were far ahead of its time. The theory was revolutionary but also was so unconventional that it shook peoples intuition about space and time. The former concept of time being universal to all the being on and off earth was changed by him. His theory postulates that the speed of light will be same irrespective of the state of motion of its source.
His theory brought about the concept of time dilation. Time dilation simply means, that time runs slower when you travel at speed comparable to the speed of light i.e "c". Now this may seem to be uncommon or had to visualize but its a proven phenomenon and that is how he discovered the ways for time travel. From his theory the following can be used for future time travel:
Speed:
It might come as a shock but the people in the international space station that is always rotating earth at a high speed are actually time travelers. Their constant state of motion in comparatively high speed bring about the minuscule level of time dilation. This dilation causes them to age slower than the rest of people on earth. In other words, if we are able to travel at a speed of 90% of light's speed we will age 2.6 times slower than people on earth. Travel now at that speed and leave earth, if we come back after 4 years the earth will have already advanced by 10 years. That means we literally jumped 6 years of earth time. Though our friends on the ISS don't experience such big time jump, but they do gain some very very small amount of extra time.
The particles that runs through particle accelerators like LHC, are very lucky. They travel at a speed of 99.99% of speed of light and for them 1 sec is equal to 11 months on earth normal time. This is the result of time dilation and thus Einstein discovered or more like theorized it.
Gravity:
The other method also came from Einstein. This time general relativity. In general relativity he introduced the concept of how the universe experiences the space and time as wide spread cloth that can bend when an object is placed over it. For simplicity imagine a stretch trampoline with a heavy ball in the middle. Those curves around the ball is the bend in space and time. Now if the ball is big enough to bring about a major bend in space and time, he says it can slower the time. Precise atomic clocks at different gravity level have been used to test for this phenomenon and turns out, it is true. When an object is subjected to heavy gravitational force it experiences a slower time. Practically, we would need a very heavy object like a black hole or other such scale heavenly bodies to see a significant time jump for us. Though it seems not feasible for humans any time soon, the clocks on the satellites seem to experience it all the time. Those clocks and the clocks on earth are required to be constantly synchronised taking in account for the gravity to keep them functioning.
The GPS satellites are constructed taking in account for both the time dilation and gravitational effects. If any one of them is left out, your GPS won't be working as precisely as it should be.
Wormholes:
As explained in the movie "Interstellar", wormholes are holes in spacetime connecting two different points of space and time. These "holes" in spacetime are also the solution to the equation published by Einstein in his theory of general relativity.   Theoretically, anything that goes through wormholes can jump between two points of space and time. It is believed that many wormholes are being constantly created and destroyed in the quantum level but finding a wormhole that can fit a person or a spaceship is a challenge yet to be completed.
Conclusion:
Apparently, time travel isn't really an unattained dream at this point. The only compromise is it is not significantly large and we can't seems to control at which point we exactly want to go. If you are still thinking about traveling back in time then it is discussed in this post. What you think about time travel? let us know in the comment.
The Grandfather Paradox and Time Travel
Fiction or philosophy, time travel has always astonished many individual. The "Back to the Future (1985)" movie has become a classic over the years and still provokes our desire to be able to live the past or see the future. Though the work of fiction in itself doesn't explain the physically possibility of time travel, it does stirs the curiosity of many. Looking at it from the watch glass of a physicists, it seems going into the future can be possible but travelling to the past does not seem to be decisively possible just yet.
In the following post, I will be only talking about travelling back in time for that is where the paradox occurs but you can read about future travel here.
The Grandfather paradox:
To being with, let us walk through an imaginary world. In this world, there is a man named Tom and he has a fully functional time machine. Tom had a grandfather who recently died due to natural causes. For some reason, he was always angry with his grandfather. Tom was so angry that his anger got him homicidal and Tom decides to travel back in time and kill his grandfather during his 20s. Tom starts up his time machine and goes back in time when his grandfather is still single. He points his gun at him and shoots him.
Now the problem arise that, if he killed his grandfather before he got married, and conceived his parent then he was never born and if he was never born how could he exist to go back in time to kill his grandfather? Such circumstance creates the paradox known as the The Grandfather paradox.
This problem of causality is fundamental in nature and will occur if and effect is allowed to precede its cause.
The solution:
Though it is disputable there can be a solution to the grandfather paradox. If the universe somehow cause Tom to miss the shot and not be able to kill his grandfather, his grandfather would not die and Tom will be born and he can go back and try again and miss again and the loop can continue.
Other can be Tom goes back in time, kill his grandfather but the timeline he killed his grandfather is different from the one he came back from. That would mean in an alternative worldline, he is not born but in his own worldline he exists and he didn't kill his grandfather.
Just like that, we have also a third solution. In quantum mechanics there a phenomenon called quantum superposition. In this state an object can be in multiple different state at the same time. Leaving your common intuition behind, in this state the grandfather can be alive and dead at the same time in a superposition state. That means the grandfather didn't die so the grandson is born and the grandson goes back in time and kills the grandfather so the grandson is not born now and thus the grandfather didn't die. This loop is of two different retrocausal events are in superposition thus eliminating the paradox.
The Time Travel:
Now for the actual travel we would need a device that is capable of sending us back. From Einstein's general relativity, after solving it to some exact solution, we get solutions like transversable wormhole, Gödel metric etc which follow Closed Timelike Curve. These are supposedly the regions of spacetime that will follow a fixed closed curve of spacetime and thus meeting the end and the beginning. If we are to trace its path then we can be able to reach back to a certain point of time. Though Novikov self-consistency principle seems to show that it will be consistent and no paradox will arise, Stephen Hawking has labeled the chronology protection conjecture that claims that such closed timelike curves won't exist in nature in any macroscopic level.
Though some mathematics and theory don't rule out the possibility of back time travel the essentials of a fully functional time travel is nowhere near possible to construct or discover. The possibility of antimatter being the particle travelling back in time is theorized by Wheeler–Feynman and is quite accepted. Thus most theories suggests that quantum particles or simply very very small particles that abide with the laws of quantum mechanics might be able to travel back in time without breaking the causality but for macroscale the chances seems to be pretty slim.
Conclusion:
Aristotle believed that water is homoiomerous and infinitely divisible: any bit of water could be subdivided, in principle, into smaller bits of water. Aristotle's view contains no logical contradiction. It was certainly consistent with Aristotle's conception of water that it be homoiomerous, so this was, for him, a conceptual possibility. But if chemistry is right, Aristotle was wrong both about what water is like and what is possible for it. It can't be infinitely divided, even though no logical or conceptual analysis would reveal that.
Similarly the conceptual formulation of existence of a way for backward travel has been theorized but its practicality cannot be determined. And concept alone cannot rule out the possibility of time travel but in all senses it seems near impossible anytime soon or ever.